Ultrasound hands-on course
| | |
| --- | --- |
| Pre-congress course | Neck and intraoral ultrasound hands-on course |
| Date | June 4, 2020 9:00-11:30 |
| Location | Juroku Plaza, 4F conference room 3, Gifu City, Japan |
| Number of participants | max 30 participants |
| Registration fee | JPY 5,000 * |
*Reservation required. Registration will be started in December.
Instructors
Working group on ultrasound presentation and hands-on:
Dr. Rose Ngu, UK
Associate professor Yoshiko Ariji, Japan
Professor Takafumi Hayashi, Japan
Assistant professor Taichi Kobayashi, Japan
Overview
In current TNM classification (8th edition), depth of invasion (DOI) and (clinical) extranodal extension has been incorporated into T and N staging, respectively. DOI is defined as the depth of tumor by dropping a "plumb line" to the deepest portion of the tumor from the level of the basement membrane of the normal mucosa closest to the tumor.
In this hands-on course, learners are expected to
A) understand the basic principles of ultrasound diagnosis
B) learn the practical skill of neck and intraoral ultrasonography
C) identify the normal anatomy of head and neck on ultrasonography
D) understand the characteristic findings of metastatic cervical lymph nodes and superficial tongue carcinomas
Cervical lymph node metastasis

Intraoral sonography of tongue carcinoma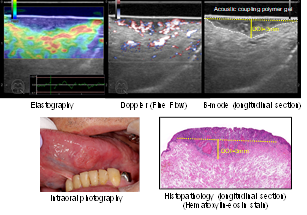 ▲